Transportation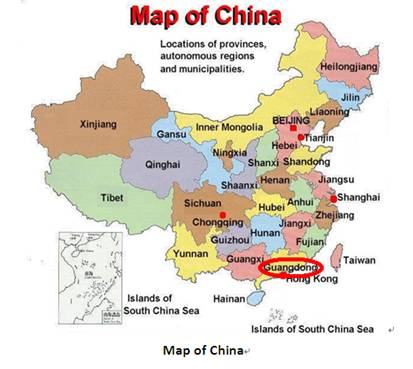 Guangzhou is easily accessible from the main hubs around the world thanks to its modern airport – the (Guangzhou) Baiyun International Airport, which boasts it is "the 2nd busiest airport in China in passenger traffic" with over 60 international air routes. (http://www.guangzhouairportonline.com/) There are direct flights to Guangzhou from major Asian, European, American, and Australian hubs. Delegates choosing to fly into other major Chinese airports, such as Beijing, Shanghai and Hong Kong will also find it easy to get to Guangzhou. There are over twenty flights a day from Beijingto Guangzhou and over fifteen flights a day from Shanghai to Guangzhou, and the "Through Train" from Hong Kong to Guangzhou takes only two hours. We can reassure you that it will be quite easy for non-Chinese speakers to arrive in Guangzhou as the Airport has abundant English language signage and English speaking airport personnel.
GDUFS is situated about 22 km (13.6 miles) from the Airport. It takes about 30 minutes by taxi (and costs about 90 RMB, less than 10 GBP or 15 USD) and about the same by underground (8 RMB, less than 1 pound). Volunteer linguistics students will guide arriving delegates at the Airport and underground exits to get to the campus. For ease of travel we recommend route one.
Option 1: From Guangzhou Baiyun International Airport (GBIA) to Guangdong University of Foreign Studies)
Route 1: Take a taxi from the airport taxi-ranks to Guangdong University of Foreign Studies. Say to the driver "Guang-wai Baiyun Dadao Bei" or simply show the following slip of paper to the driver:

Location of taxi-ranks:
Arrival Area A: Outside Gate A5;
Arrival Area B: Outside Gate B6.
Taxi fares: RMB 80-90
Route 2: At the airport, take the Underground Line 3 to Yongtai Station (fifth stop), and get out from Exit B2 (RMB 6). Then take bus 864 and get off at Guangdong University of Foreign Studies Stop (RMB 2). Or you may take a taxi from Yongtai Station to GDUFS (RMB 15).
Total Cost: RMB 8-21
Option 2: From Hong Kong International Airport to Guangzhou
Mainland Coaches

Coach Services are available at the Mainland Coach Station of Terminal 2. Regular services depart from the airport between 07:00 and 23:00 to Guangzhou (Garden Hotel). (Duration: 4 hours, around HK$220 for one way, around HK$ 400 for return trip)
Then you may take a taxi to Guangdong University of Foreign Studies (Guang Wai).
Tips:
1. A valid travel document/visa for Mainland China is required before boarding the coaches.
2. For more detailed information, please refer to the following websites:
Go Go Bus
Railway:
The Airport Express train takes passengers from Hong Kong International Airport to Kowloon Station in 20 minutes. Then you can take a 15-minute taxi ride to the Hung Hom Station where the train departs for Guangzhou East Railway Station in Guangzhou (duration: 2 hours, HK$ 190). Then you may take a taxi to Guangdong University of Foreign Studies (Guang Wai) (10.5 miles, TAXI FARES: around RMB30).
Hong Kong to Guangzhou Through-Train Timetable
Train No.

Hung Hom

Guangzhou East Railway Station

T812

07:25

09:20

T824

8:18

10:09

T820

09:24

11:19

T804

10:42

12:37

T808

11:28

13:23

T814

12:14

14:09

T826

13:10

15:01

T818

14:47

16:42

T810

16:35

18:29

T828

17:50

19:41

T816

18:35

20:30

T802

19:24

21:19
Guangzhou - Hong Kong Through-Train Timetable
| | | |
| --- | --- | --- |
| Train No. | Guangzhou East Railway Station | Hung Hom |
| T801 | 08:19 | 10:03 |
| T807 | 9:03 | 10:56 |
| T813 | 09:50 | 11:43 |
| T817 | 12:12 | 14:07 |
| T809 | 13:52 | 15:46 |
| T825 | 15:31 | 17:21 |
| T815 | 16:12 | 18:05 |
| T803 | 16:56 | 18:49 |
| T819 | 18:15 | 20:08 |
| T827 | 20:15 | 22:05 |
| T811 | 21:32 | 23:25 |
| T802 | 19:24 | 21:19 |
How to buy your ticket?
The trains are very popular, and you need to book your train ticket a few days in advance. This is especially true during peak travel periods such as Chinese New Year and the National Holiday or even weekends. If you travel from Guangzhou to Hong Kong, tickets can be bought at Guangzhou East Railway Station. You may also book through a travel agent, and perhaps you may book a ticket in your hotel. Tickets for the train from Guangzhou to Hong Kong start to be sold 30 days in advance. If you travel in the other direction, you can buy it from the Hung Hom station or by using the Hong Kong Ticketing Phone System (852-29477888).